Cannabis Scientists and Labs Can Help with National COVID-19 Research Volunteer Database
Harvard Neuroscientist, Michael Wells, and a team of volunteer scientists from endCoronavirus.org have created and stocked a national database of scientists and researchers ready, willing and able to help with response efforts for COVID-19. At the time of this writing, more than 8,000 scientists have registered from all 50+ states.
It all started with a Tweet on March 18th. 
"I really wanted an outlet for me, like someone like me, to be able to help out in this fight," Wells said in a Harvard Crimson interview. "I knew I was, by far, not the only one who felt this way. And so what happened was, on the walk home from work that day from the lab, I thought, 'Hey, I should try to organize something here in Boston so I could potentially be a part of a group that makes themselves available to health department officials or county officials.'"
Volunteers are made up of a mix of laboratory scientists, data scientists, software engineers, medical writers, CEOs and epidemiologists – from academic research institutes, national labs and private industry. Many state and local government agencies and organizations have already accessed the list for reference, including FEMA.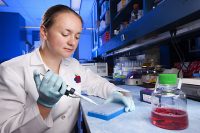 Members of the cannabis industry can help to combat COVID-19. "The cannabis industry relies on specialized laboratories that routinely perform qPCR-based microbial tests," says Wells. "As a result, these labs have basic skill sets and facilities required to participate in community COVID-19 testing." Quantitative Polymerase chain reaction (qPCR), is a common technique for determining if there are microbial contaminants in flower, concentrates and infused products.
Some cannabis industry leaders have already taken to the call. "With the trend in legalization, the cannabis industry has built an excess testing capacity in anticipation of an increase in volumes," says David Winternheimer, PhD, CEO of Pacific Star Labs, a Los Angeles-based cannabis research organization with an ISO-accredited testing laboratory. "As an essential industry, cannabis companies are open to helping the wider population in a crisis like this, and testing could easily be adopted in labs with excess microbial testing capacity."
Michael Wells and his band of volunteers are asking to help get the word out to other scientists who would like to sign-up at https://covid19sci.org and for anyone to help share the database link with any relevant person in government or health services. "Right now, it is all hands on deck. We need every lab, facility, and pair of skilled hands to be deployed in this fight against the most dangerous pathogen our species has experienced at this scale in our lifetimes."
endCoronavirus.org is a volunteer organization with over 6,000 members built and maintained by the New England Complex Systems Institute (NECSI) and its collaborators. The group specializes in networks, agent-based modeling, multi-scale analysis and complex systems and provides expert information on how to stop COVID-19.
The COVID-19 National Scientist Volunteer Database is a database of over 8,000 scientists from all 50 states, DC, Puerto Rico, and Guam who are eager to volunteer our time, expertise, equipment, and consumables to help you respond to the COVID-19 crisis. They have aggregated our contact information, locations, and skills sets into this easy to use centralized database. Their members include experts in scientific testing, bioinformatics, and data management, as well as key contacts willing to donate lab space and testing supplies.
The post Cannabis Scientists and Labs Can Help with National COVID-19 Research Volunteer Database appeared first on Cannabis Industry Journal.